CUSTOMER CHOICE PACKAGES
CHOOSE FROM OUR SELECTION OF MEAL OPTIONS
All Options Below Are Available Weekly
Family Menu Selections
Weekly menu changes every week
We update our family menu selections every week with quality fresh meals you and whole family can enjoy.
* No substitutions will be made on family meals. Please resort to our custom meals section to create your own meal choosing your specific protein, carbohydrate, vegetable and portion size.

MEALS THE WHOLE FAMILY CAN ENJOY
FAMILY MENU PICKS
We understand life can get in the way sometimes, that's why we have our chefs prepare a delicious menu every week so you can leave the hard work in the kitchen to us! Meal trays are updated every week. These meals also include gluten free and paleo diet options. Great for family meals!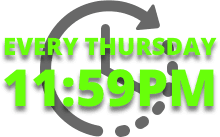 Don't forget about the order deadline!
Any orders placed from Monday – Thursday, you will receive your meals on the following Sunday. Any orders after the deadline from Friday – Sunday, will be delivered on Wednesday! For any questions with ordering, we are happy to assist!