CHEF CHOICE PACKAGES
AN INCREDIBLE VARIETY OF MEALS
Let the pro's at FNF select your meals for you.
Packages starting at $89.00
Let our Chef create a delicious healthy package for you!
Select a package size based on how many meals per day fit your dietary needs. All meals average 4oz to 5oz of protein (previously our LEAN option) and can be upgraded to 6oz of protein (previously our PERFORMANCE option).
**All meals can be frozen upon delivery to be consumed at a later date.**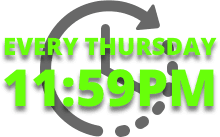 Don't forget about the order deadline!
Any orders placed from Monday – Thursday, you will receive your meals on the following Sunday. Any orders after the deadline from Friday – Sunday, will be delivered on Wednesday! For any questions with ordering, we are happy to assist!