BULK ITEMS
CHOOSE YOUR MEAL PREP INGREDIENTS
Select your own meal prep ingredients.
All ingredients are priced per pound.
We understand that you may want to create your own meal plan. That's why we give you an option to purchase your favorite meal prep ingredients by the pound. Everything is prepped and sent fresh for you!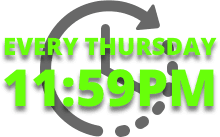 Don't forget about the order deadline!
Any orders placed from Monday – Thursday, you will receive your meals on the following Sunday. Any orders after the deadline from Friday – Sunday, will be delivered on Wednesday! For any questions with ordering, we are happy to assist!